Elizabeth F. Carter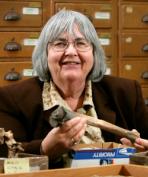 Professor, Department of Near Eastern Languages and Cultures (NELC)
Fowler A322-C
Phone
: (310) 206-5474
Fax:
(310) 206-4723
Email
Class Websites
Anatolian Lab
Education
Ph.D., University of Chicago, 1971
Areas of Interest
Near East, currently working in Turkey and southeastern Turkey; Bronze Age urban sites
Research
The Kahramanmaras archaeological project aims to produce a record of long-term cultural changes in a region at a major crossroads between highlands and lowlands along the Syro-Anatolian frontier. Until the National Geographic Society sponsored our surveys in 1993-1994, no serious archaeological work had been done in the Kahramanmaras region of south central Turkey since 1887. A major goal of our archaeological surveys is to create a series of maps that will place the archaeological sites in their environmental settings through time. To date two hundred and twenty-seven archaeological sites have been located on a detailed 1/25,000 map. The area covered by our extensive survey was approximately 1100 square kilometers. We have discovered, recorded, and mapped manufacturing sites (flint tools, ceramics); several quarrying facilites; extensive cemetery sites, hilltop forts, and small farmsteads. The earliest site identified (KM43) dates to the Paleolithic (ca. 250,000 BC); the latest sites are of Medieval date (11–13th centuries AD). Early in the Iron Age, Kahramanmaras was the center of an independent kingdom called Gurgum. 
ADDITIONAL LINKS
A Day in the Life of the Domuztepe Excavations 

Domuztepe 2002 Field Season 

The Incirli Stela 

Turkish Newspaper Article