The Cotsen Institute of Archaeology at UCLA is dedicated to the creation, dissemination, and conservation of archaeological knowledge and heritage. Home to the UCLA Interdepartmental Archaeology Graduate Program and the UCLA/Getty Master's Program on the Conservation of Archaeological and Ethnographic Materials, the Cotsen Institute provides a foundation for pioneering faculty research and publication, innovative graduate education, and stimulating public programming. With a strong reputation built over more than 40 years, the Cotsen Institute is one of the leading archaeological research organizations in the world.
Friends of Archaeology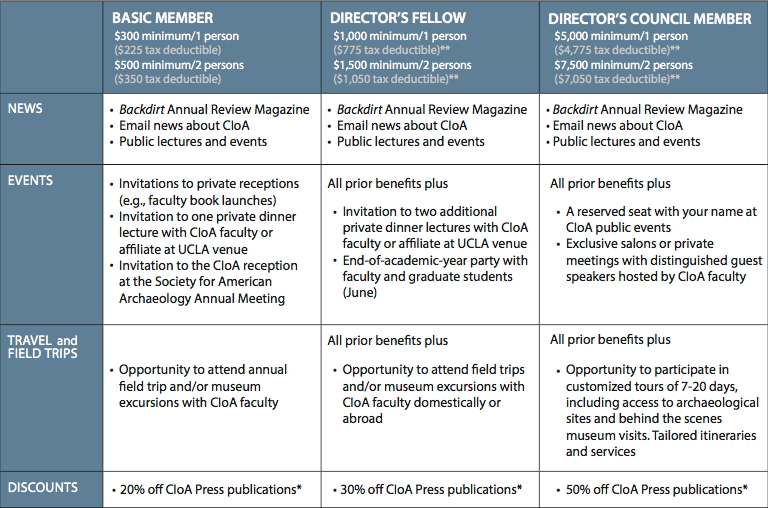 *Contact Randi Danforth at cioapress@ioa.ucla.edu or (310) 206-9384 for CIoA Press publication purchases.
**Eligible for Chancellor's Society benefits
Click the Give button above to join UCLA Cotsen Friends of Archaeology or support another fund with your online donation.
Click here for the UCLA Friends of Archaeology Membership form.
For more information about making a gift to the Cotsen Institute of Archaeology at UCLA, please contact:
Lisa Mohan
Senior Associate Director of Development, Social Sciences
UCLA College of Letters and Science
1309 Murphy Hall, Box 951413
Los Angeles, CA 90095
(310) 825-8930
lmohan@support.ucla.edu